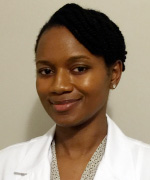 Dr. Naadira F. McClain is a board certified Neurologist and diplomate of the American Board of Psychiatry and Neurology, Inc. She completed her subspecialty training in Clinical Neurophysiology at the University of Maryland. Dr. McClain completed her Neurology Residency training at SUNY Downstate Medical Center in Brooklyn, New York. She received her medical degree from the University of Medicine and Dentistry of New Jersey, where she acquired additional training in the function and manipulation of the musculoskeletal system. She obtained her Bachelor's of Science degree from Montclair State University where she graduated with highest honors.
Dr. Naadira McClain is affiliated with the American Academy of Neurology, as well as the American Osteopathic Association.
Dr. McClain is a prior recipient of the Paul Robeson Award for Academic Achievement and the Howard Levine, DO Award for Academic Excellence. Additionally, she received the Governor's Proclamation for Community Service Award from the state of New Jersey.
Dr. McClain's special interests include the treatment of neuromuscular diseases such as peripheral neuropathies, myopathies, and neuromuscular transmission disorders such as Myasthenia Gravis. She is also trained in performing electrodiagnostic testing.