J. Michael Cochran, MD, PhD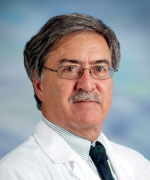 Dr. J. Michael Cochran is a Magna Cum Laude graduate of Rice University with a Bachelor of Science degree in Biology. He received his M.D. and Ph.D. from the University of Miami School of Medicine-Jackson Memorial Hospital Medical Center, where he also completed an internship, Neurology residency, and fellowship in electromyography and neuromuscular diseases.
A former professor of neuroanatomy at Temple University School of Medicine (1979-1985), Dr. Cochran did a fellowship in neuroscience at Washington University (Barnes Hospital). He is Board Certified by the American Academy of Psychiatry and Neurology, and a member of Phi Beta Kappa. His special interests include neuromuscular disorders, stroke, Parkinson's disease and movement disorders, dystonia and spasticity treatment with Botox, epilepsy treatment and headache.